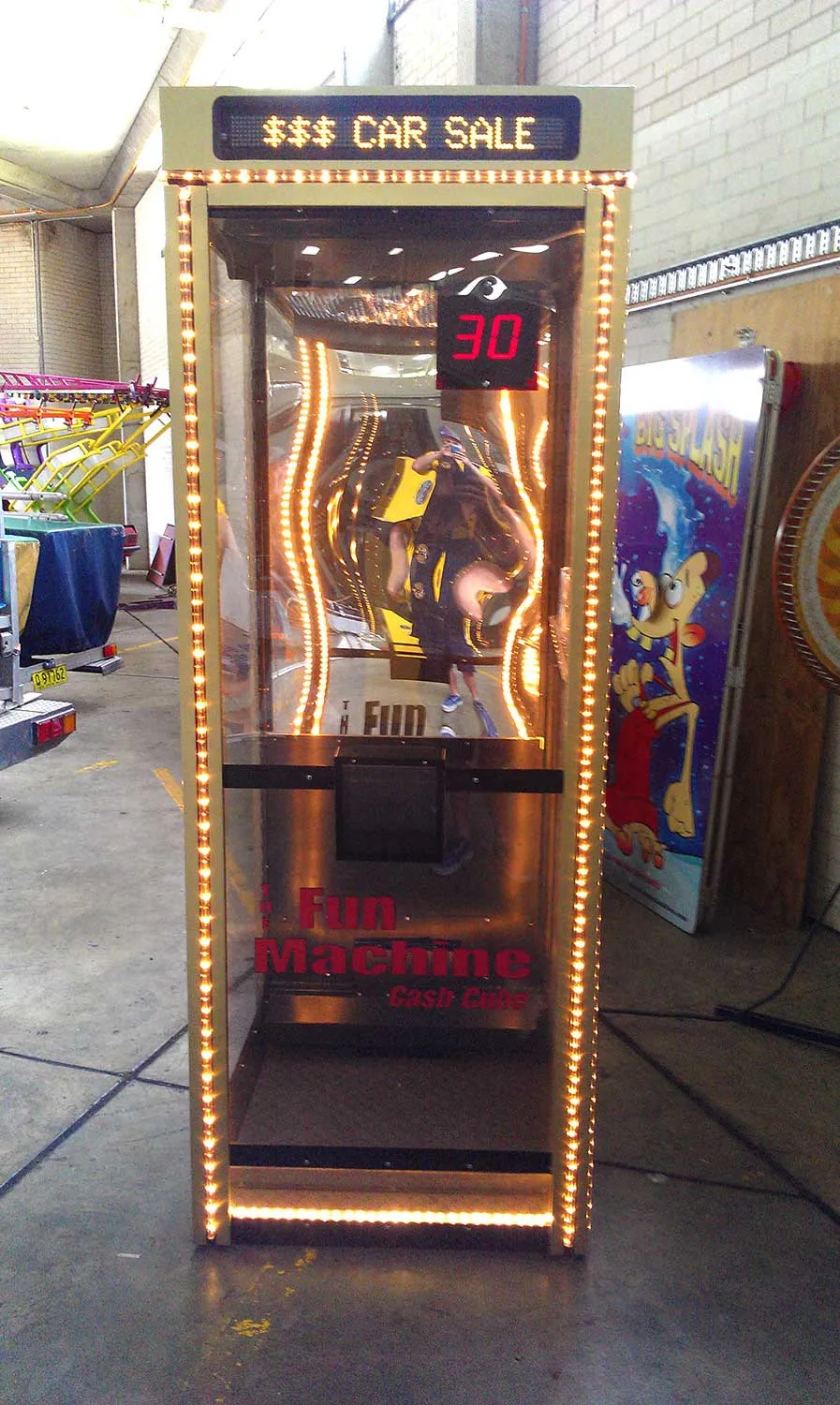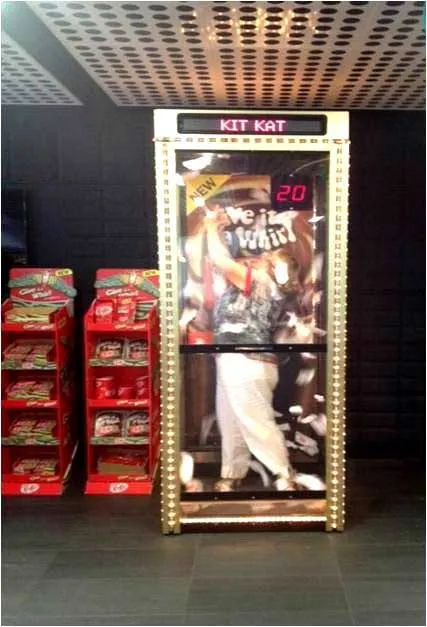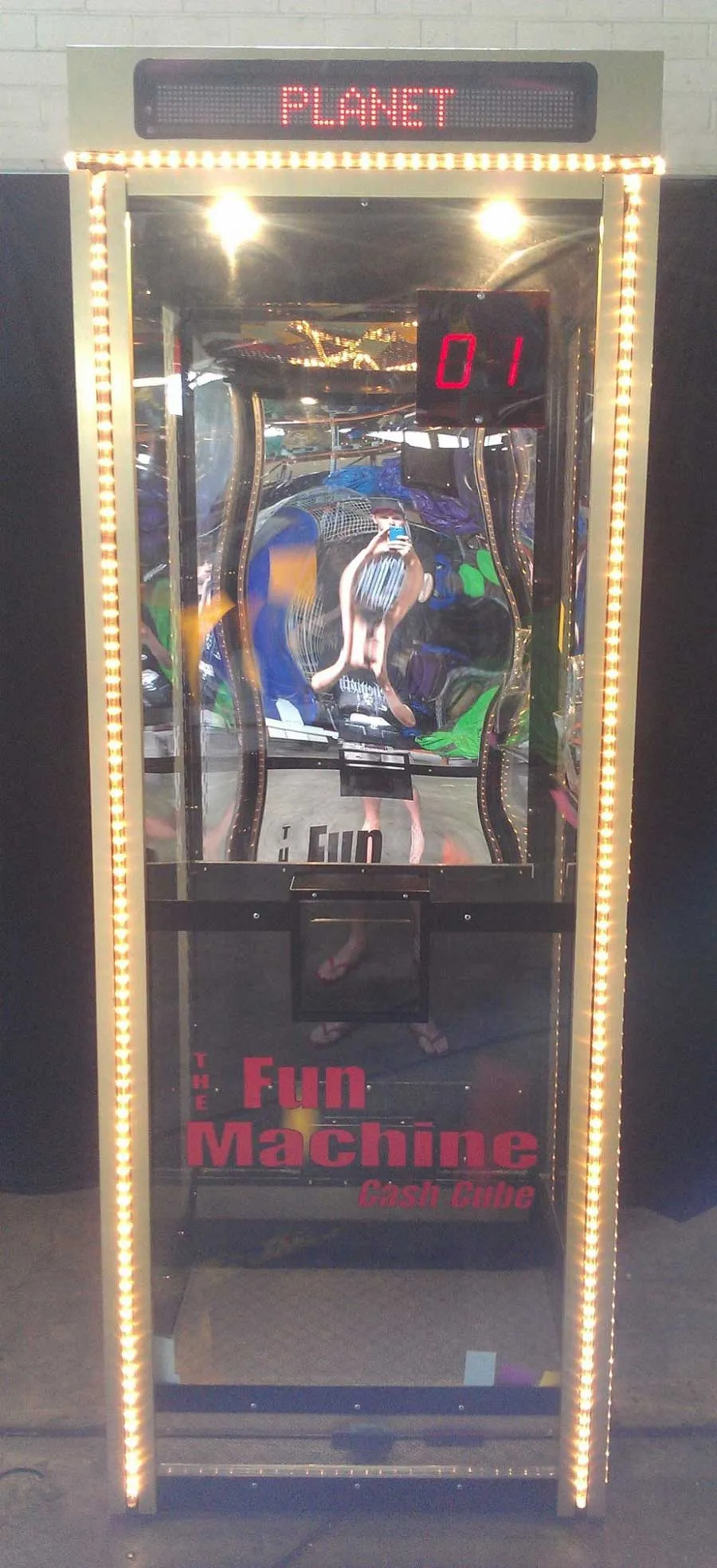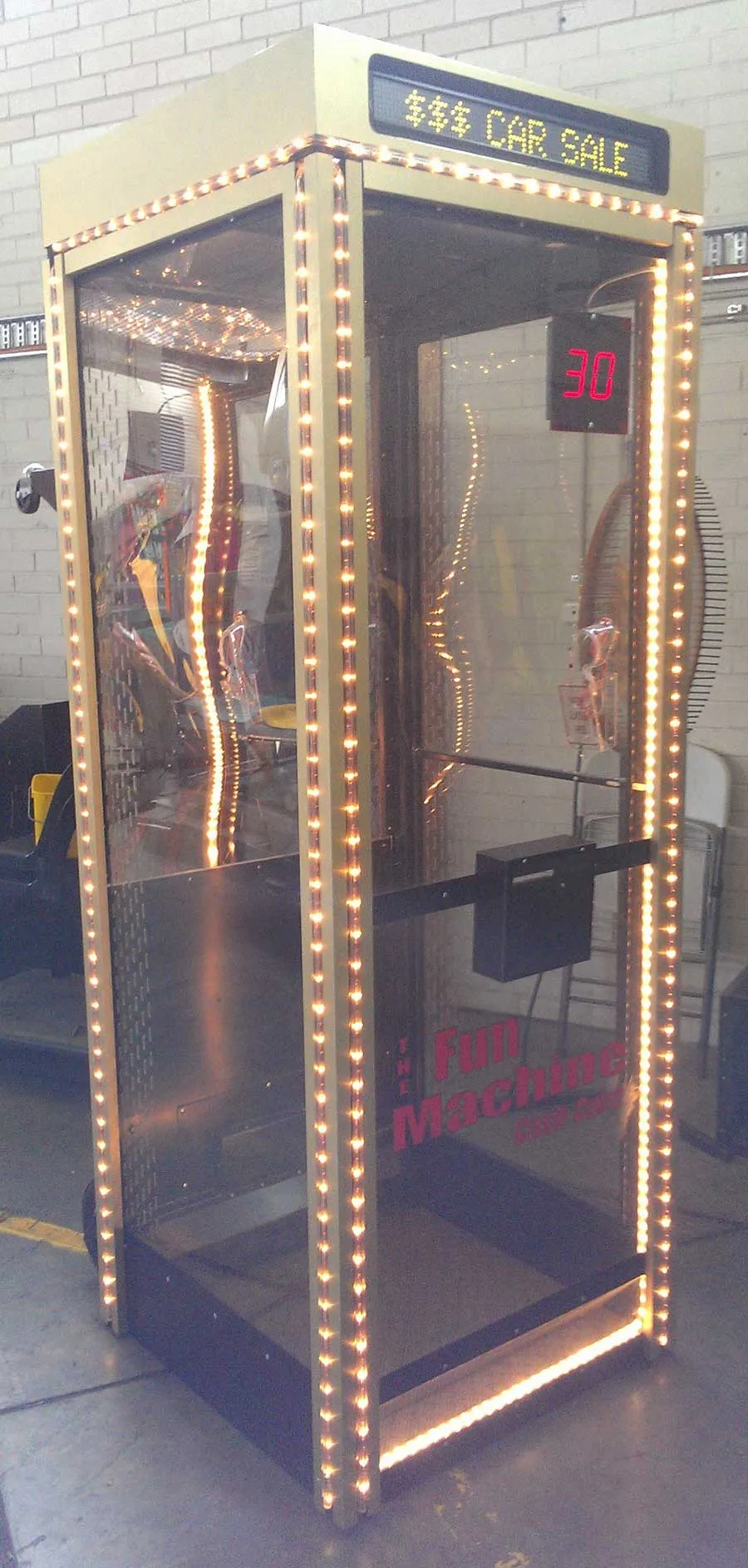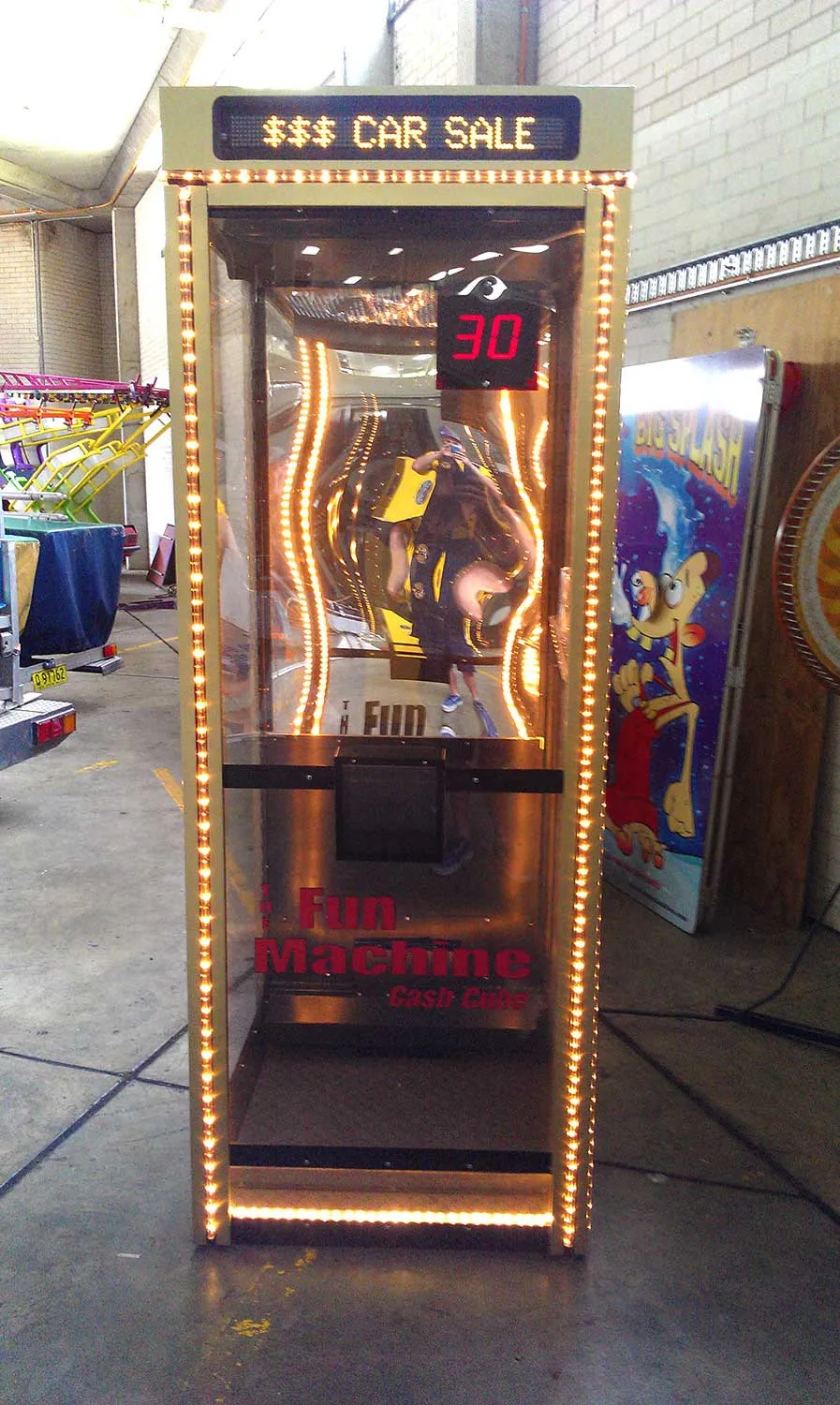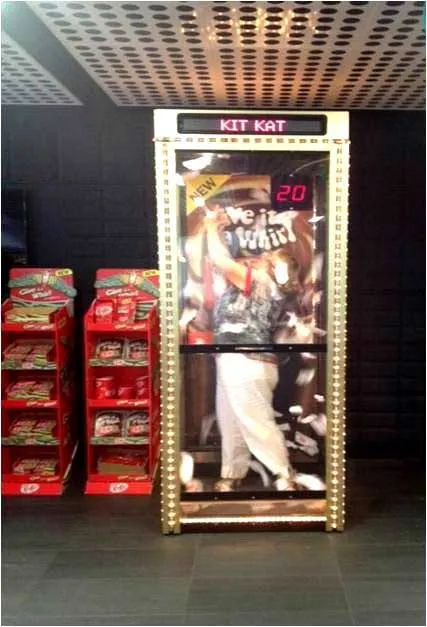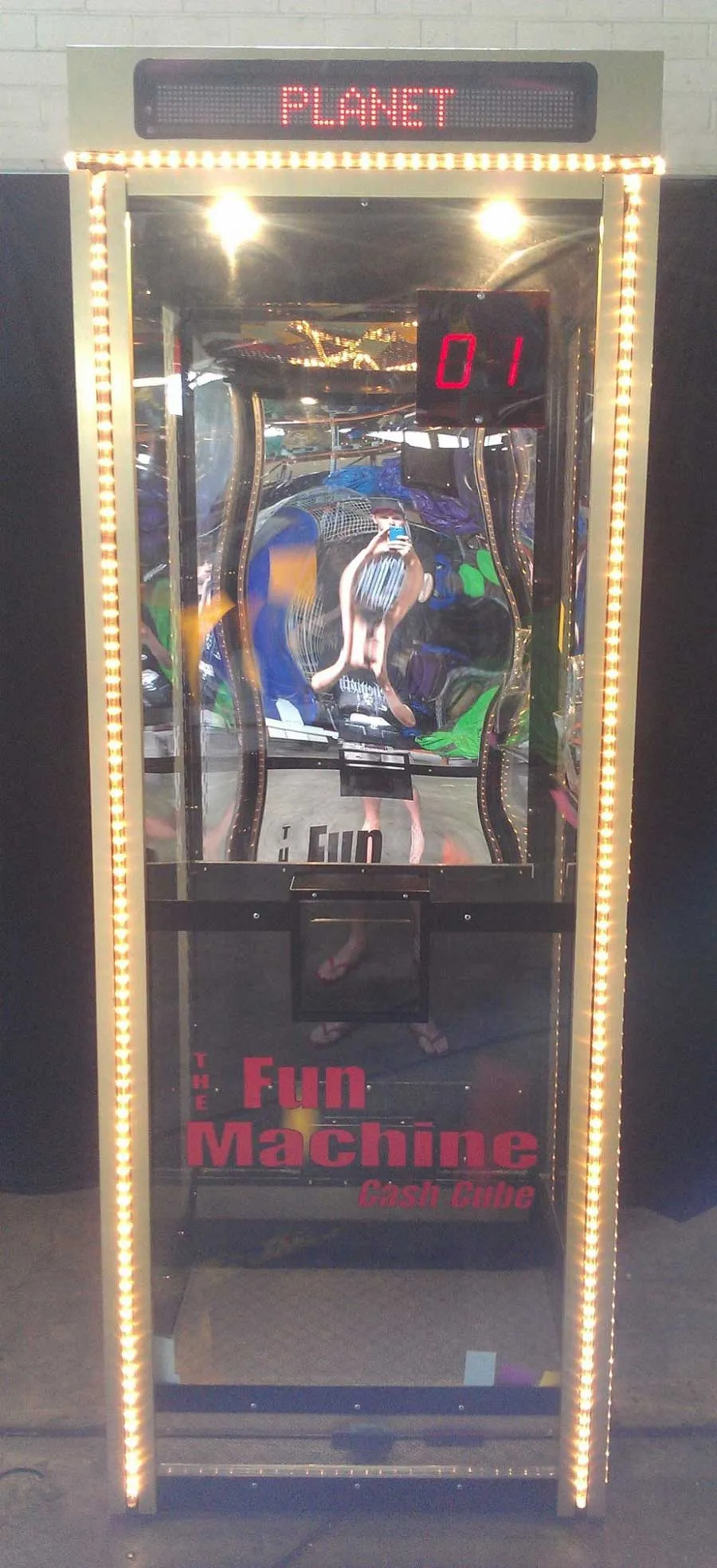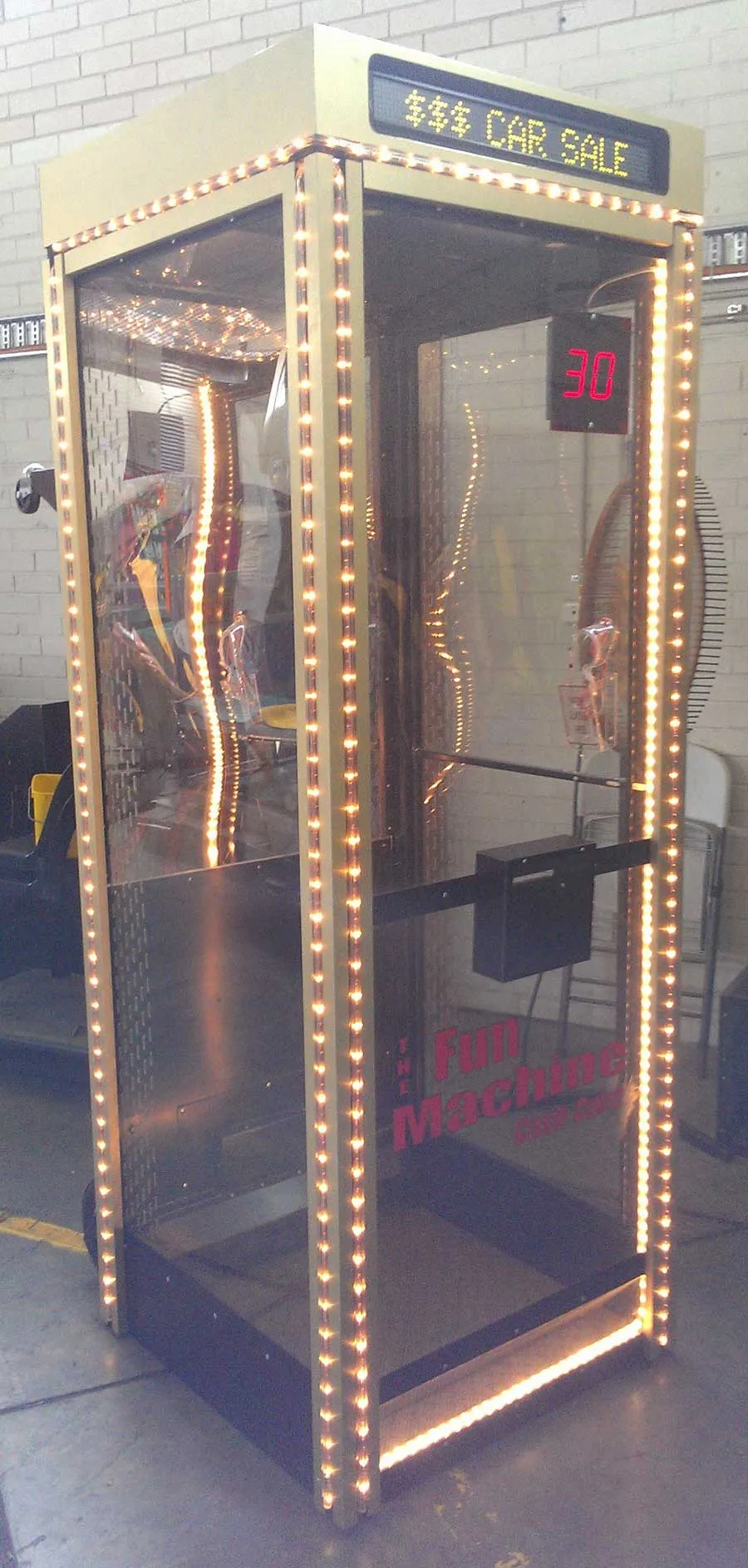 Specifications
| | |
| --- | --- |
| Space required | 1.1m x 0.85m x 2.5m (L x W x H) |
| Power required | 1 x 240V/10amp (normal power point) |
| Hire Options | Available either Fully Operated or on a DIY basis |
| States available | NSW only |
Deluxe Money Machine
Deluxe Money Machine Cash Grab Hire Sydney.

The Deluxe Money Machine is also known as a Cash Cube or Cash This is the ultimate interactive promotion device; perfect for marketing campaigns, trade events, radio stations and fundraising, school fetes or festivals. Customers can hire the money machine long or short term, or Planet Entertainment can deliver and operate it on your behalf so you can focus on your crowd and promotion! The deluxe money machine features a programmable LED timer and message board, flashing rope-lighting and carpeted interior…This really is the most deluxe Cash Cube Machine you will find for your event! Use money, coupons, tickets or whatever best suits the purpose of your event. The cash grab or money machine uses powerful fans in the base to blow your coupons around the contestant as they try to pluck them from the cyclone of prizes whirling around the cash cube. We recommend using coloured copy paper not much larger than Australian currency; simply print your coupons or promotional material, scrunch them up a little so they catch the air better and away you go! Depending on the size of your coupons we would recommend somewhere between 50-100, and if using real money then older bills that have been roughed up a little will work better as crisp flat notes or paper tend to stick to the floor and not catch the air so well.

We have had car dealerships and brands like Kit Kat (see photos) customise this Cash Grab by simply creating a decal or signage to insert over the entire internal back wall. We are more than happy for you to come and view our equipment before you hire it, take any measurements and let your creativity soar. In addition to the programmable LED message sign, a custom background graphic will further enhance the appeal and impact of your Money Machine, making sure your audience remembers your brand or event!

Installation: Due to its size this unit needs to be wheeled into any venues so service lifts and wide doorways will be required. Best to check these details with our friendly sales team if you are unsure of the measurements below.
Branding: The back wall of the machine can be branded (770mm (w) x 1800mm (h)). The scrolling LED message board can also be programmed to reflect a message, slogan, or brand name!