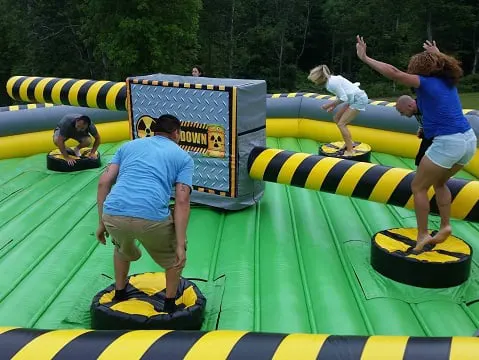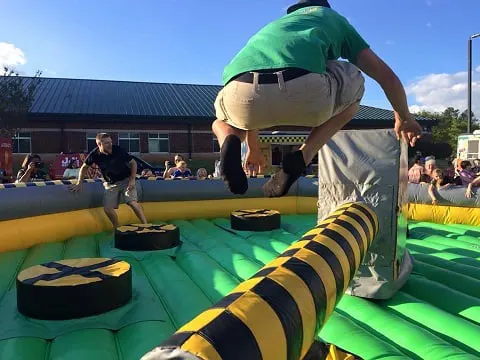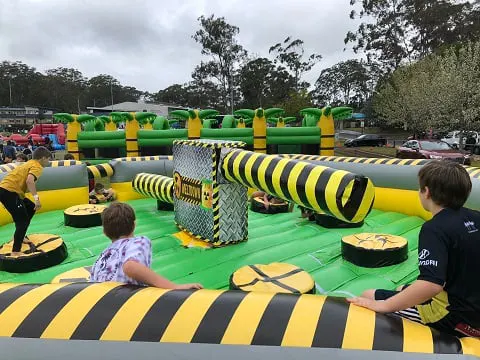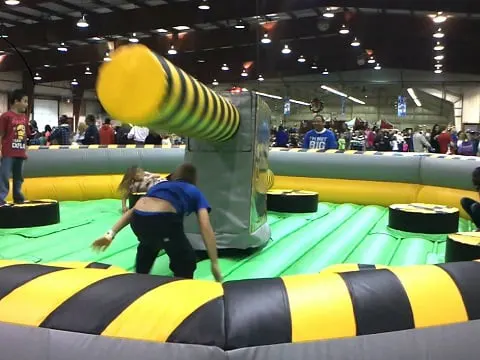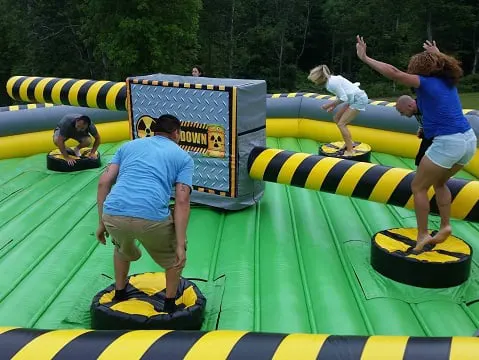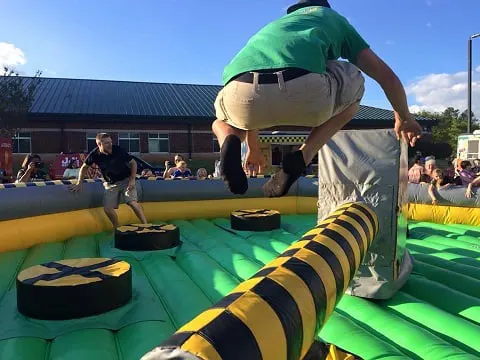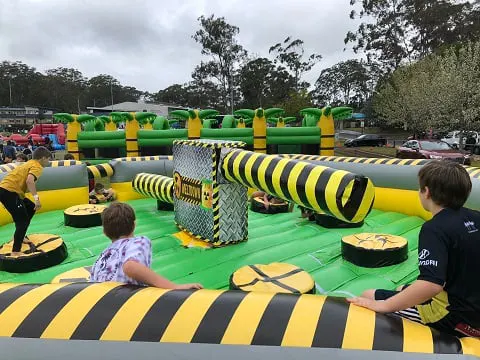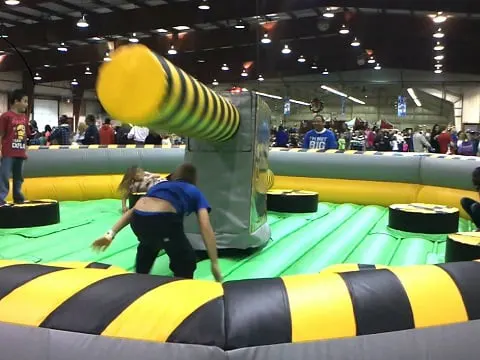 Specifications
| | |
| --- | --- |
| Ages | 8 years to Adult |
| Rider Requirements | Minimum 1.2m height |
| Space required | 8m Diameter x 3.5m (H) |
| Power required | 2 x 10A/240V normal powerpoints on their own circuits |
| Game Capacity | 8 players at once, approx 160 per hour |
| Hire Options | The Meltdown comes with 1 staff member to supervise to ensure safety and fun |
| States available | NSW & VIC |
| Setup Time and Staff Required | 45 mins, 1-2 staff |
Meltdown
Meltdown Eliminator Game Hire Sydney
It's finally here and it's going off! It's a Knockout and Ninja Warrior game-shows are definitely entertaining on TV but EVERYONE needs to experience the fun of the Meltdown in person! Don't be distracted by your opponent being eliminated from their podium while the padded arms spin around and move towards you. This game will challenge all of your skills as you judge the speed of the arms then either duck or jump to avoid it while trying to regain your footing and balance on your inflatable podium. The padded arms will not hurt and are controlled safely for speed and direction by our trained operator but it is guaranteed to make contestants and waiting spectators laugh and cheer! As 8 contestants take their place our operator will start slowly and begin rotating the arms and as confidence grows or the final players are left standing the speed will gently increase until there is 1 person standing as the winner! Great for team building school fetes and fundays!
Ride Installation: To set this up we first need to wheel the motor into place so if possible it is best we avoid narrow doorways and stairs as it is bulky and heavy! Truck access is preferred. Around this we will unroll and connect the large inflatable section which will take up 8m in diameter. We then connect the padded arms as well as 2 power cords for the motor and inflatable soft landing and away we go! Due to the height of the batons we need to ensure riders are at least 1.2m tall or they won't be able to jump high enough!
For the ultimate in Team building then combine this ride with the Toxic Big Baller and Ninja Obstacle to have an extreme assault course for all your colleagues to battle through!
Related Products