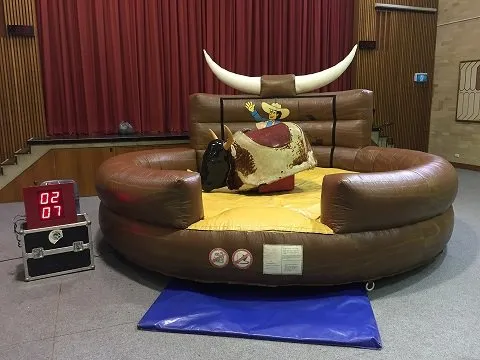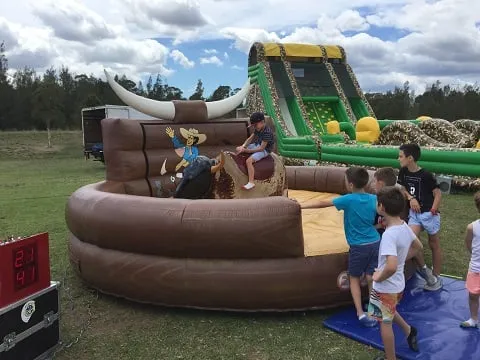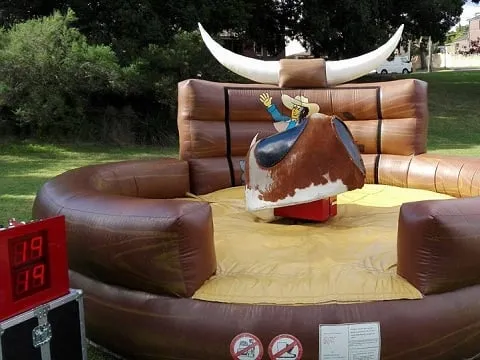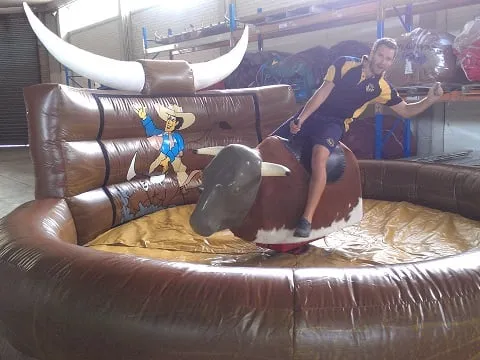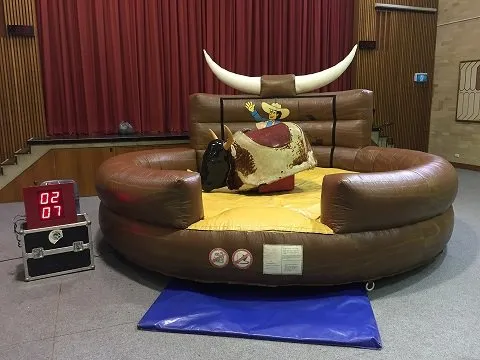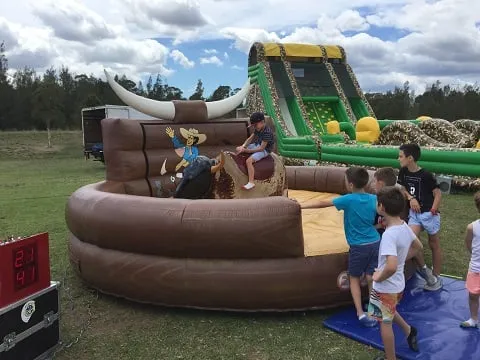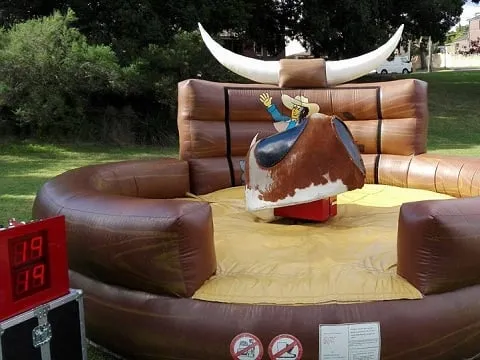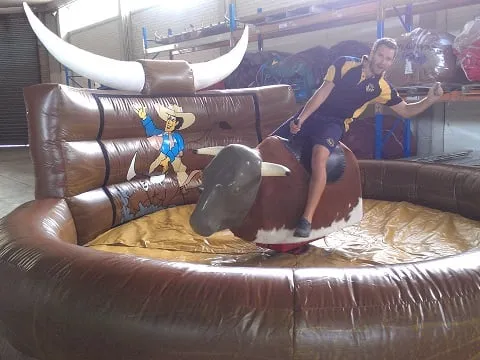 Specifications
| | |
| --- | --- |
| Ages | Ask us |
| Space required | 6m diameter x 2.7m (H) |
| Power required | 2 x 240V/10amp (normal power points) on its own circuit |
| Access required | Flat access is required with min 1m width, preferably no stairs. |
| Game Capacity | 1 rider at once. Approximately 60 people per hour |
| Hire Options | The Mechanical Bull will come with 1 staff to supervise to ensure safety and fun |
Mechanical Bull Hire Sydney
Bucking Bulls for hire all around Sydney!
Welcome to the Rodeo, and NO experience is required to ride our bulls. We have 4 of Australia's most advanced and safest electronic controls to ensure a great fun ride, and our operator will adjust the settings based on your competency. Our bulls have been hired for all kinds of events throughout NSW; from backyard parties, university O-Week, bars, weddings, school fetes, community festivals, Bar Mitzvah's, radio and TV, right through to creative brand activations for the NRL or Fat Yak beer! Our timer display makes it easy for you to run competitions or team building exercises and our operators will ensure that the difficulty is adjusted safely as riders build confidence and skill. The wide inflatable crash matting makes it a gentle fall from the bull and we have detachable horns or even a headless option if extra precaution is needed! This exact ride is also available with either a
Football
or
Reindeer
to hold on to if they suit your event theme better.
Mechanical Ride Installation:
First we will need to set up which involves wheeling the large sturdy base motor into your venue. This is quite heavy so best if we can avoid stairs and we need at least 1 metre wide doorways and paths to access. Next we roll out and inflate the cushioned surrounding and finally we attach the controls and drag in the mighty beast, but don't worry, we have him under control. As you sit atop the bull in the saddle you'd better hold on! Our operator will get the bull bucking for you slowly to start off and increase the intensity as required. We aim to give you a really fun experience and when the bull finally manages to flick you off, you will land safely on our wide inflatable ring which surrounds you. Check the electronic timer panel to see how long you held on for and try to better your times or outdo your friends!
SAFETY NOTE:
Our operator can move the bull minimally and slowly for any rider so everyone gets to enjoy the fun and experience the thrill for themselves. Apart from the inflatable soft landing, we also have safe removable horns and soft bull heads, or if you want the old-school traditional look we also have a model without the head as well.
If access is an issue or you have smaller riders then a Mechanical
Surfboard
or
Snowboard
may suit your audience better if you have more height clearance as the contestants need to stand up.. If you have any access or ride enquiries please get in touch to see what is more suitable!
Related Products