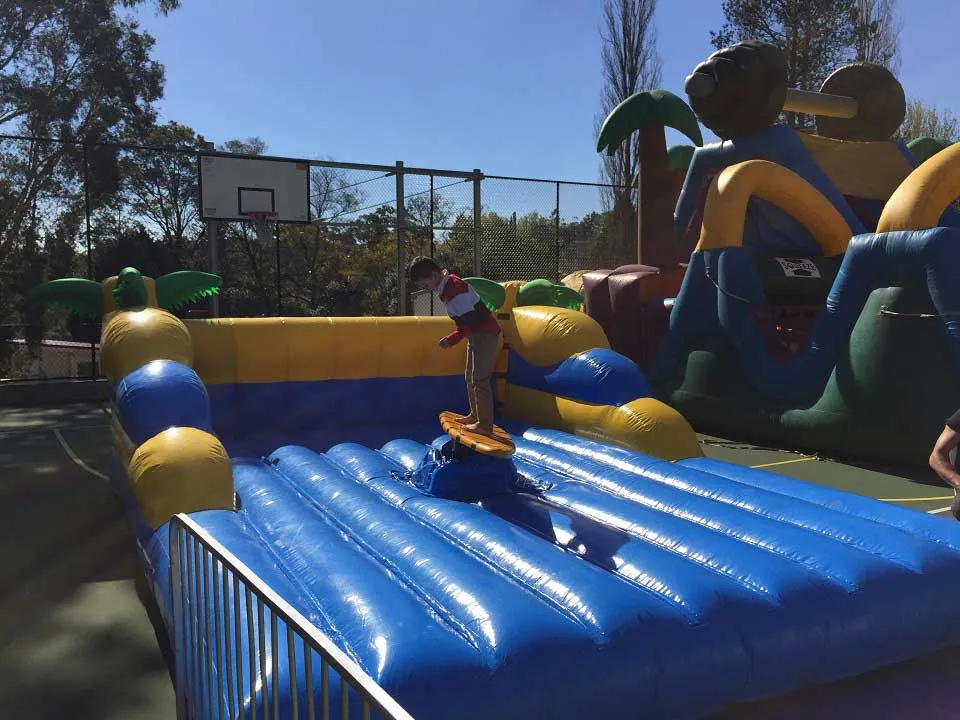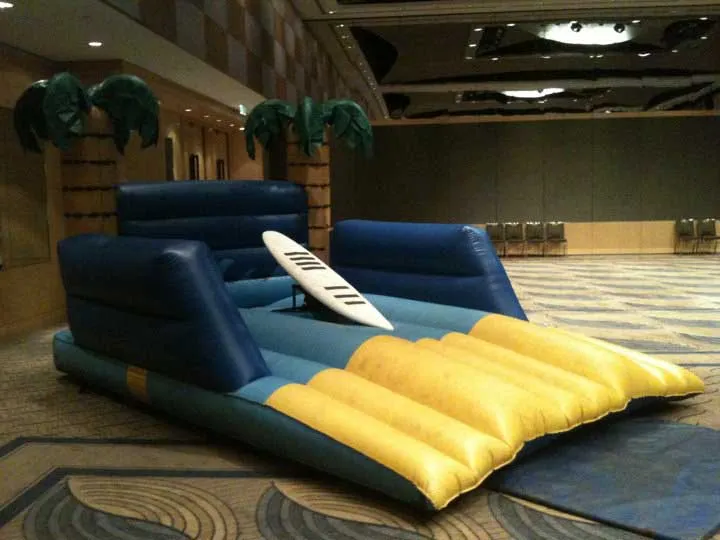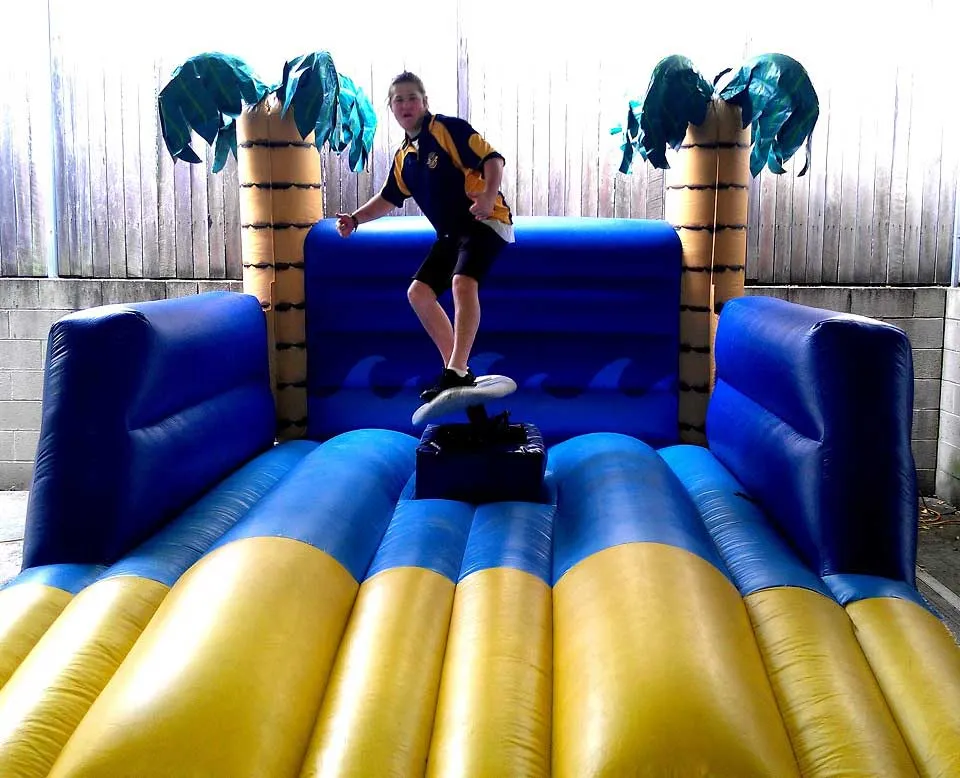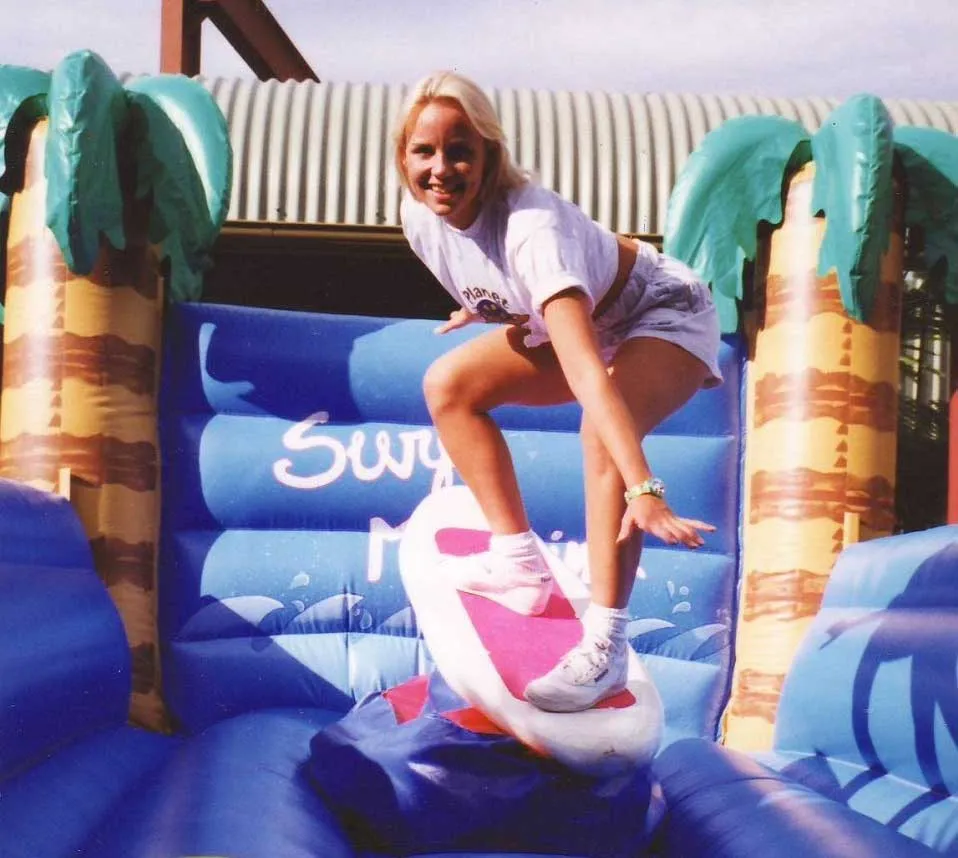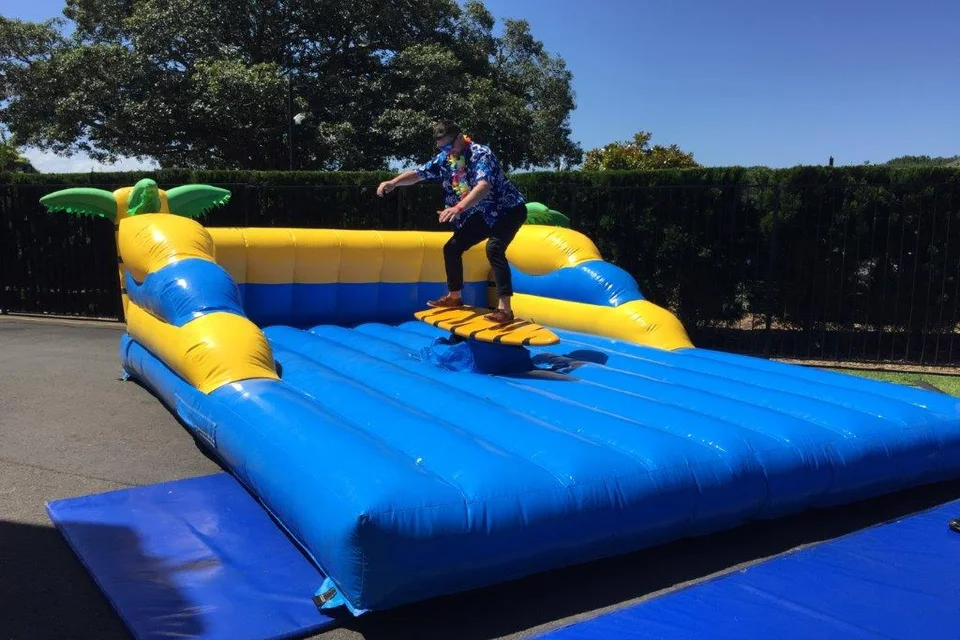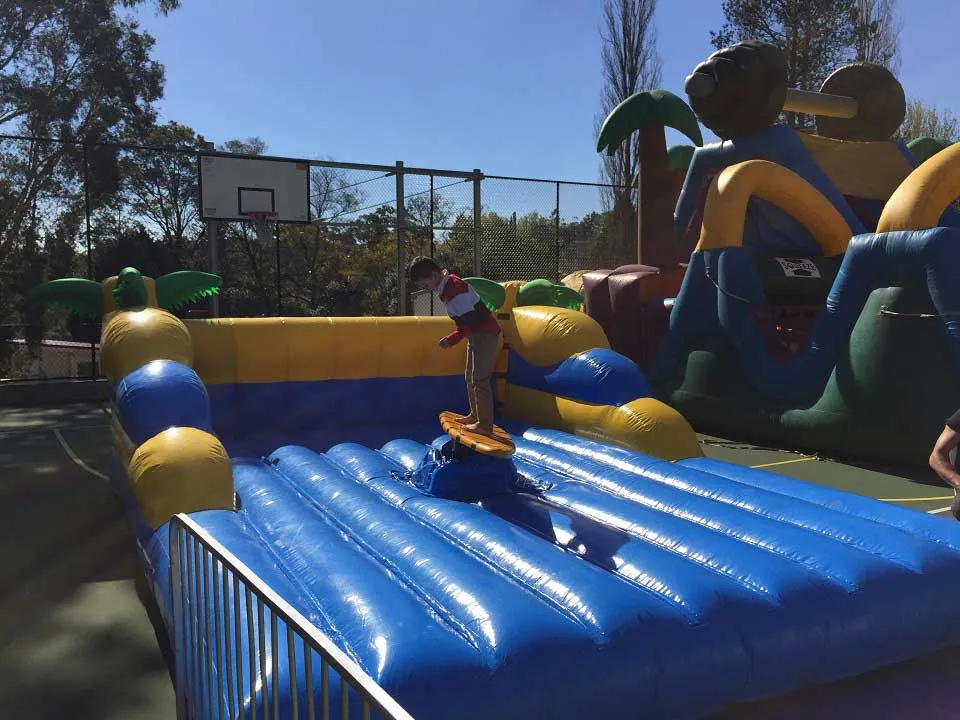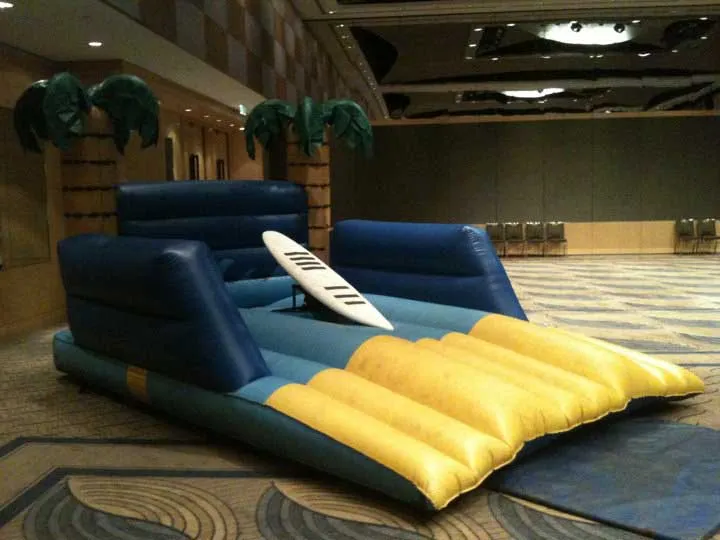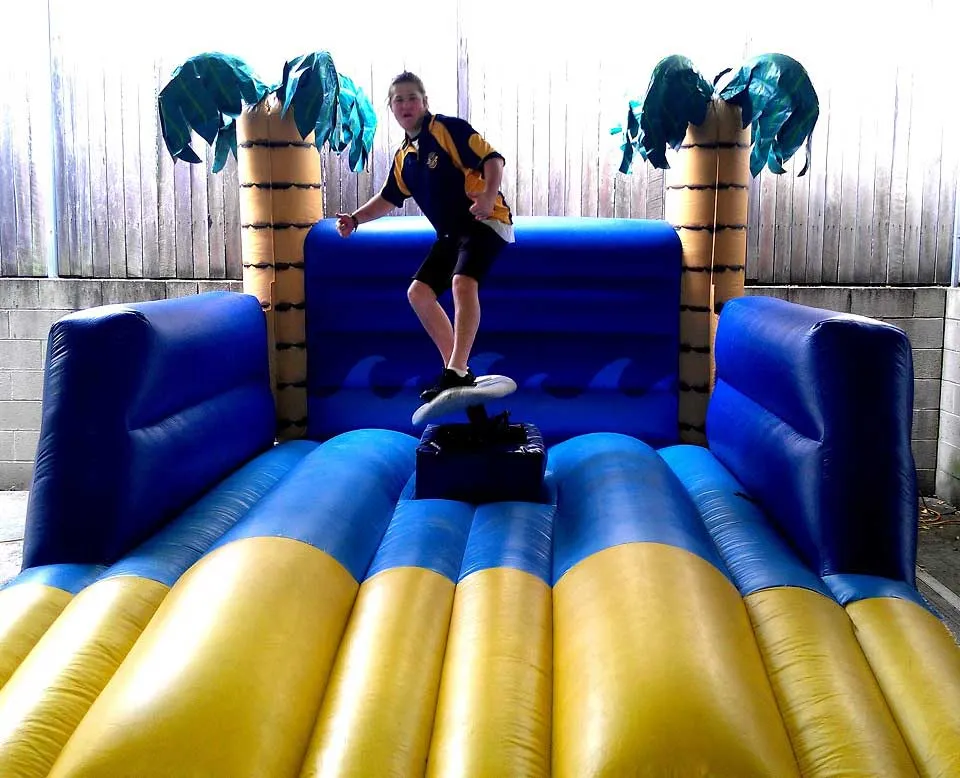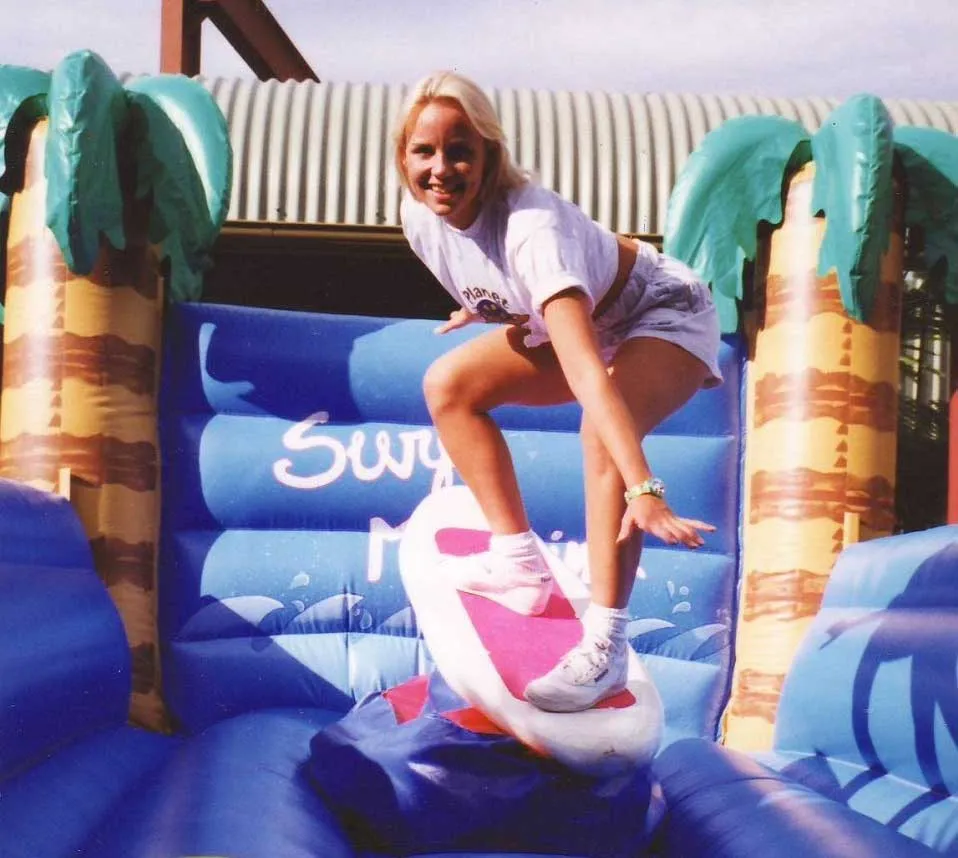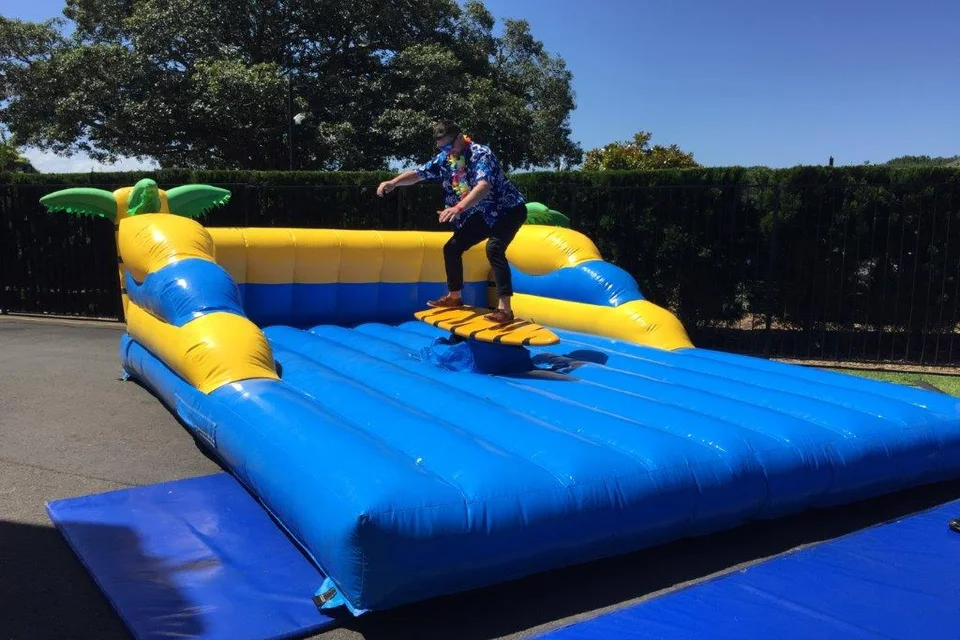 Specifications
| | |
| --- | --- |
| Ages | Ask us |
| Space required | 6m x 3.5m x 3.5m (h) |
| Power required | 2 x 240V/10amp (normal power point) on its own circuit |
| Access required | Flat level access is required with minimum width of 1.1m |
| Game Capacity | 1 rider at once. Approximately 60 people per hour |
| Hire Options | The Mechanical Surfboard will come with 1 staff to supervise to ensure safety and fun |
Mechanical Surfboard
Mechanical Surfboard Hire Sydney
Hiring a Mechanical Surfboard or
Mechanical Bull
would have to be the most frequent choice of our clients for backyard parties, pub events or corporate Friday fun. The big hit of any summer party is the fun that can be had on our mechanical surfboard by all ages, and if it's winter then why not have a Hawaiian theme and ignore the cold? The surf machine is themed with palm trees and beach colours and will integrate seamlessly into your next party. Ideal as the main attraction or item within a large array of games, the mechanical surfboard lets you ride the wave then wipe out on the inflatable beach which surrounds for a safe fall. We also have a model called the
Big Kahuna
if you want to escape the giant swell behind you or avoid the sharks on the
Pipeline
! No surfing experience is required as our operator will carefully watch your progression and adjust the settings as required. We can go from super slow rocking to crazy fearless wipeout mode for those with good balance. It's important to know you're safe though as any spills will land you on the wide cushioned surrounding and we supply additional crash mats outside the ride too! Many of our guests run competitions using a timer to see who can last the longest riding the wave and it may be a good way to give out prizes or part of a team building exercise!
Ride Setup: This attraction is great for indoors or outdoors so long as we can safely access the area. The motor is a little heavy so we need to trolley it and is best if we can avoid narrow doorways and stairs, but it's not impossible if no other choice and you have people on site to assist our operator. We stabilise the motor frame and connect power, then place the safe inflatable surround and surfboard over the motor and we are ready to rip.
We have 2 sizes of this Surf model as seen in the photos;
Blue and yellow inflatable base only needs 6m length x 3.5m width. We recommend 3.5m height clearance in case of tall riders.
Blue inflatable base needs 6.5m length x 4m width so is a little larger, we recommend 3.5m height clearance in case of tall riders.
Related Products